Hello all, I recently found this website after years of toying with the idea of building my own car. At the moment I donít have the space to go full size so I have been working on scaled prototypes to get much of the details sorted out before I get to the real thing. I donít have enough experience with CAD work to make the beautiful 3D renderings that I have seen in other build on this site, I do everything by hand on paper. I have done 2D CAD drawings for specific parts that will need to be sent out for machining.
My design is based heavily on the original Miura and Miura concept cars. I just love the style and classic lines but I want something a little more unique than a straight replica. I have taken my favorite elements from various cars and combined them into something unique. The body closely matches the original but I plan on tweaking the lines a bit to update the looks. Overall, Iíve tried to integrate modern aerodynamics and styling to update the classic Miura. I am still undecided about the building of the body. Parallel Designs in UK has started offering Miura bodies based on the Prova molds and they look very Very good but between the cost, shipping, and planned modifications it almost might be better to start from scratch. At this point I feel that even with he various modifications, the parallel body will save me a ton of work. They also sell glass, headlights, and various hardware that would speed my build time. In the near future I will be building some scale bodies and testing various tweaks to the body. It will be mostly style changes but Iím pulling some strings so I can stick the body in a wind tunnel for some serious testing!
The chassis will have to be built from scratch. The parallel chassis is very nice but it is designed for specific components that are not readily available to me. I plan to use corvette c4 or c5 components for the main suspension. The chassis will either be a steel space frame or aluminum monocoque. I have experience working with aluminum and I feel it would be an interesting challenge; however steel is more traditional and easier to build with and repair.
The drivetrain is where my questionable sanity really shines. The engine will be a BMW v12 mounted transversely as in the original. I would love to twin turbo it for that additional kick and cool factor. The transmission is the tricky bit, there arenít many transverse 6 speeds that will handle to power of a twin turbo v12 and still fit the tight space. I am still looking for that perfect transmission but at this point I am even considering custom adaptations utilizing T-56 parts and very elaborate adapters. If you have any leads on suitable transmissions please let me know. If I go ahead with the T-56 idea Iím very tempted to send a torque tube up front and make this beast AWD! But that is more pipe dream than realistic.
I have learned in my previous message board experience that a newbie is totally useless without pictures so Iíll start off with my favorite drawing so far, Just a simple side view of the car with the various body modifications. I will be uploading more of my drawings in the future to show more aspects of my design.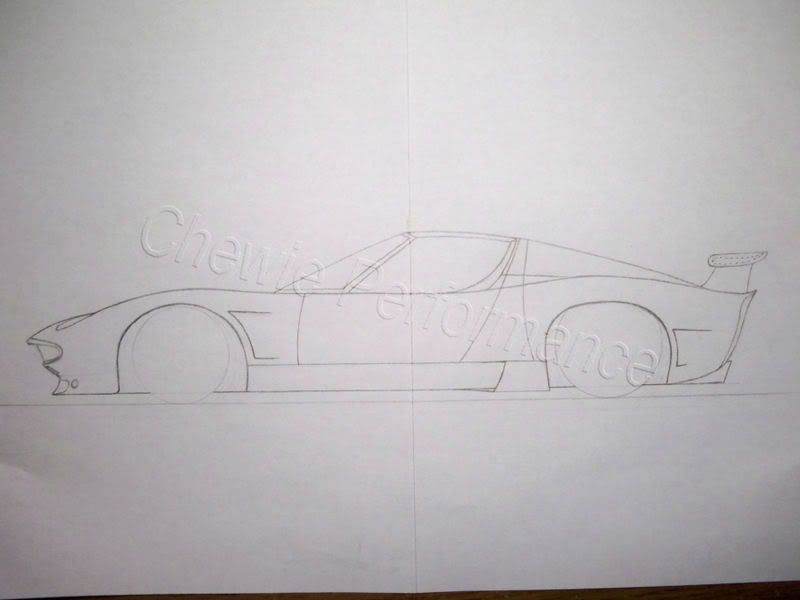 Hopefully this one drawing will tide you over for a while. Unfortunately this is a long term hobby of mine so donít expect any blistering progress, I pick at it when I can and thatís about it. Iím hoping to have a garage soon so I can start buying up the big pieces and getting into the nuts and bolts of it. If you have any comments, suggestions, or ideas about my project, Please let me know. Sorry for my rambling, I just love talking about my project! I congratulate anyone who actually read through all of that! Thanks.