Disc Brakes
In parallel with modeling the station buck, I've started working on the brake system. I've elected to go with an aftermarket brake system made by Wilwood. It's a high-performance brake system utilizing 13" rotors on all 4 wheels, 6 piston calipers, and a pedal assembly with built-in balance bar for front to rear bias adjustment on the fly. I ordered up all the pieces a while ago and now am beginning the initial assembly process.
While going aftermarket on a brake system gives a lot of flexibility, it also can make for some engineering challenges as this collection of parts didn't come off an assembly line in an auto plant. The first challenge I ran into is with mounting the calipers to the suspension uprights. The calipers were designed to be mounted with two 3/8" bolts and have only 9/16" between caliper mounting tabs and rotor for fastening. The suspension uprights are aluminum and given the limited space available, I can't use traditional fasteners like hex nuts behind the aluminum upright. The two milled off areas on the upright is the caliper to upright mating surface.
I could have drilled and tapped threads into the aluminum upright but I don't like this especially for a critical safety item like brakes that will be constantly going through heat/cooling cycles. The 2 fastener options I came up with are heli-coil inserts or a tee-nut. While a heli-coil would give the bolt threads something other than aluminum to grip, the heli-coil itself would still be threading into the aluminum. So better from a standpoint of serviceability in tightening/removing caliper bolts a repeated number of times but still not so good related to grip strength of threads in the aluminum.
A tee-nut gets its name because it looks like a "T" in side profile. The most common use of tee-nuts is in wood where thread grip strength might be an issue and the associated fastener is typically a medium sized screw. I couldn't find a source to buy tee-nuts with a 3/8" bolt thread so I'd need to machine them myself. While it would take quite a bit of time to machine tee-nuts, I felt it was worth it to end up with a superior end result for worry free brakes. A tee-nut would give me about ½" length of thread in steel and a solid flange type head to sandwich the aluminum upright to the caliper.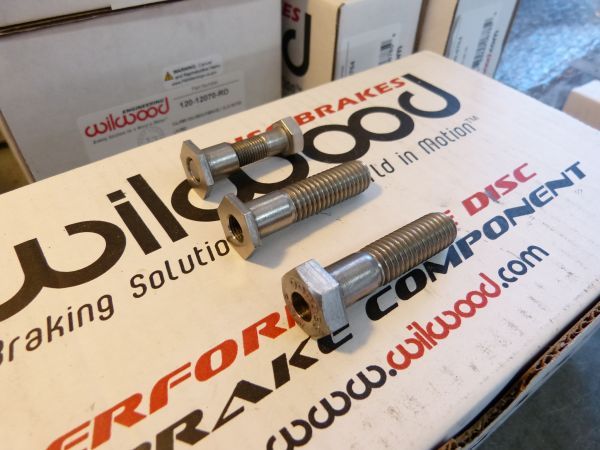 I started with partially threaded ½" stainless steel bolts. I used a lathe to drill holes into the center of the bolt head and down the shaft. The drilled hole was then threaded for 3/8"-24 threads using a hand tap. I then used a vertical mill to machine the bolt heads down to 1/8" thick so they would clear the rotor. The bolt shaft was cut off with a hack-saw and remaining shaft ground to final length on a grinding wheel. The picture above shows at various stages of machining where rearmost one is completed tee-nut with a 3/8" bolt in it. Like I said lots of machining and time to make each one and 8 tee-nuts were needed.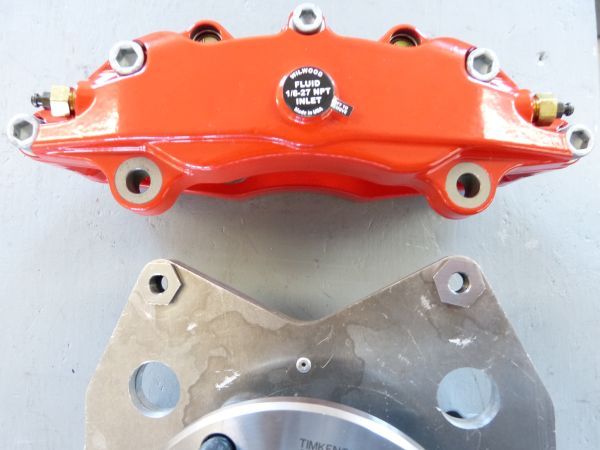 The rest of the assembly on the car was straight forward. I double checked the clearance and have about .030" between the tee-nut head and rotor surface. Not a lot but it should be enough. This brake system uses a separate cable operated caliper for parking brake. That's the smaller caliper in front.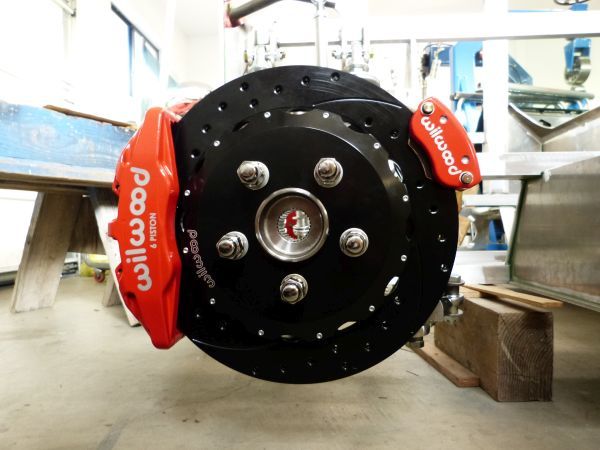 More to come on brake system…