I built this car as a project, and I am selling it for Exactly how much it costs to build one. It is complete, it just requires fiberglass body work.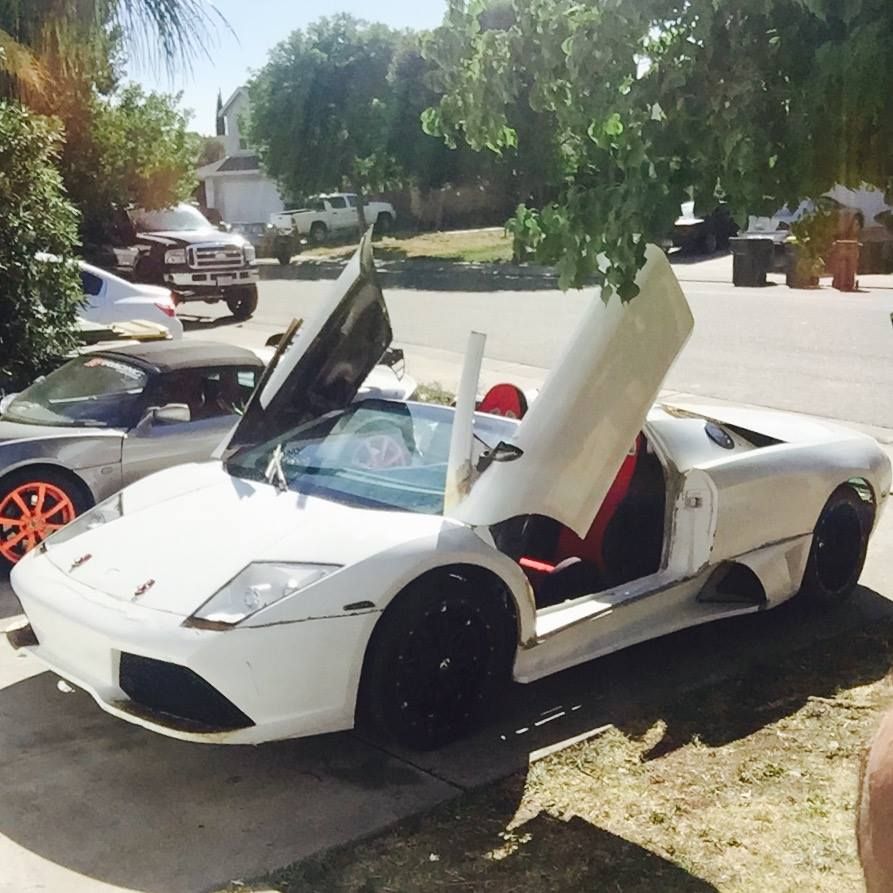 Selling my Completed, Turn-Key G28 Roadster Kit Car (Lamborghini LP640) on an MR2
These vehicles are going Extinct; there are only a dozen of them that are road-worthy here in the US.
This is your chance to own one that is Economical, Light, Quick, and really fun.
Runs Excellent. Title in hand. Cheap to Register. Low Maintenance. Low Insurance costs.
Registration paid, California Car, with a Salvage Title.
All the parts I used to ornament and put this kit car together are BRAND NEW.
-
Built on a 1995 MR2 with a NA 2.2L 5S-FE engine and a 5-speed Manual Transmission.
(For the 95 model, only 356 were sold in the US; No Turbo Models for California, only Naturally Aspired)
SPECIFICATIONS
Engine: Inline Four Cylenders, iron block with aluminum DOHC 16-valve head
Horsepower: 135 @ 5400rpm
Torque: 145 lbs-ft @ 4400rpm
Curb Weight: 2600 Lbs
Economy: 22 City/29 Hwy MPG
This 2.2 4-Cyl MR2 is equally powerful with a 2.8 V6 Fiero, and about 200 lbs lighter
Options:
Anti-lock brakes (ABS) with an acceleration sensor
Electro-hydraulic power steering (EHPS) to boost assist at low speeds and reduce assist at high speeds
Air conditioning & Heater
Tilt Steering Wheel
Cruise control (I disabled the button for now, you can reconnect it if you like).
Passenger Airbag
Remote Entry (Included also are manual indoor latches, if you want to make them mechanical)
Sliding & Reclining Sports Seats
Sport-Themed, Two-Tone Interior
Collision Protection for Front Bumper, and Doors.
Upgraded D.O.T. Complient Lights
- THE DONOR VEHICLE -
Serviced it with Brand New Parts:
New Battery
New Iridium Spark Plugs
New Oil Filter
New Fuel Filter
New Fuel Pump
New Thermostat & Housing
New Water Pump & Seal
New Oil Pump Gasket
New Oil Pan Gasket
New Valve Cover Gasket
New Manifold Gasket
New Timing Belt & Seals
Added K&N Cold Air Intake (C.A.R.B. Approved)
Removed the old Muffler (You can add your own to make it sound as you like it to)
All Systems were Flushed:
I Flushed the Fuel Tank, Flushed Brake & Clutch hydrolics, Drained oil, Drained Coolant, Drained AC, and replaced with new ones to specs (I just didn't add ac fluid yet
.
I drove the car after that and it runs and drivers like Brand New. (It's smoother with the addition of the Cold Air Filer, and removal of the old 30 lbs Muffler).
- INTERIOR -
New Red/Black Reclinable Race-Style Seats
New Sliding Seat-Rails
New Momo Steering Wheel with center Horn
New Short Knob Shifter
New Shifter Boot
New Red Key Set with Door-Pop Remotes
New Red/Black Floor Mats
New Red/Silver Pedals
New 7" Toutch Screen Stereo with BT, Pandora, Etc. (also Camera Aplicable, if You choose to install a Dash Cam or License Plate Cam).
New Speakers and Wires.
(I didn't attach the rear view mirror (included), and left the power chord that ran to it intact; in case you want to add a modern mirror with a cam and/or a screen)
Everything works smoothely; the seat belts, the seats reclining and sliding, the horn, etc.
All Systems, instruments , and dashboard gauges function properly.
NOTE: You can make it look amazing with many upgrades that the MR2 interior can host (Just google, for example 'MR2 LED Cluster', 'MR2 Glow Gauges', or check out this interior with painted panels
http://carphotos.cardomain.com/ride_...0013_large.jpg
). You want a different color interior to match the color you chose to paint the car? No problems there, just buy an entire new interior for less than $500.
- SUSPENSION -
New Coil Overs
New 2" Spacers
New Rims & Center Caps
New Tires
I lowered the car 2" all around and got it an Allignment after I stretched it and widend it. Zero Miles on all Parts.
These all are off-the-shelf products, you can buy a new wheel easily because it is not custom.
- THE STRETCH -
The vehicle came with T-Tops, so the chassis was designed with the idea that the car is esthetically a convertible.
All mechanisms on the donor car (The MR2) were disconnected (not cut-off) and properly extended with additional off-the-shelf parts to accomodate for the chassis stretch - except for the Aluminum AC and Heater Tubes, those were extended by welding additional aluminum tubing.
The Stretch is Beautiful, Strong, and as Professional as it can ever be.
Huge Trunk Space, Front Hood Space, and Cabin Space.
- THE KIT -
I purchased it from Rob, it was a Triangle-G kit he acquired.
It's really thick and strong.
I had to cut, sand, and fabricate a lot of fiberglass on the kit as none of the parts fit; the grills, the lights the doors, etc.
Surfaces are nice and smooth, but is now rough on many edges as I had to fabricate most of the edges, all the tabs, and fit many OEM parts, and kit-to-kit parts that were originally impossible to fit.
The exterior of the car is mostly in white gel coat.
- LAMBORGHINI PARTS -
New Genuine Lamborghini (04 Murcielago) Tail Lights (2x)
New Genuine Lamborghini Grills (15x)
- NON-OEM KIT-FITTED PARTS -
New Windshield (Custom Cut)
New Remote Door Poppers Installed
New Fuel Door
New GT Mirrors with Smoked LED lihghts.
New Smoked LED Bullet Lights (Amber Bulbs)
New Headlight Low Beam Bulbs (2x P1)
New Headlight High Beam Bulbs (2x P6)
New Smoked side marker light (Set of 4 with Amber Bulbs)
New Leses for Headlights
New License Plate Lights
New Fasteners for Front Hood & Engine Hatch (Not the Trunk)
New Struts / Shocks (For Doors)
USED PARTS:
Single-Blade Windshield Motor, with an Adjustable Wiper Blade.
2 OEM Hinges, Door Latches & Strikers.
NEEDS: Weather Strips
- PRICE - $22,995
If a vehicle is purchased and recorded at the Sale Price, the sale's tax would ecceed $2,000.
If the vehicle is sold on ebay, the transaction fees (ebay + Paypal) would ecceed $2,500.
However, seeing how it is now technically a Salvaged 95 MR2, and that I paid the sales tax on all the parts and services already, I can write the sale price as $2,995 Which is what I bought the car for. This should save the buyer $2,000 at regestration. BTW., liability Insurance on this car is less than $100 a Month.